Highest Returns to Shareholders over three years
REIT
Atrium REIT - Industrial REIT eyeing RM1 billion mark
Cindy Yeap / The Edge Malaysia
November 18, 2019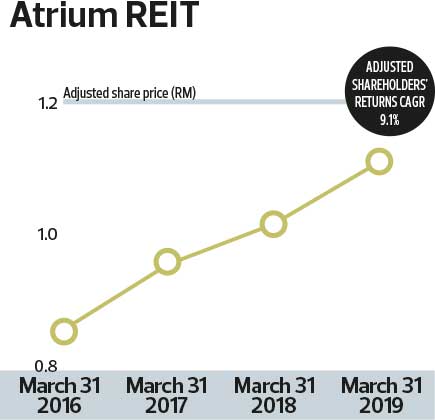 Investors optimistic about growth in the industrial asset space may have noticed Atrium Real Estate Investment Trust (REIT), whose manager wants to double its asset base to RM1 billion within two years.
Atrium REIT Managers Sdn Bhd CEO Chan Kum Chong told reporters in June that the REIT is on the lookout for suitable land for greenfield projects to bolster growth as it was tough to find yield-accretive acquisitions. To meaningfully take on any greenfield projects, however, the REIT will first need to grow in size. Real estate under construction must not exceed 15% of total assets.
Atrium REIT, which listed on April 2, 2007, has six industrial properties, five of which are in the Klang Valley, namely Atrium Shah Alam 1, 2 and 3, Atrium Puchong and Atrium USJ. The sixth property is in Penang (Bayan Lepas), its first outside the Klang Valley. It enlarged Atrium REIT's total net lettable area (NLA) from 994,418 sq ft to 1,482,919 sq ft.
The Penang acquisition also raised Atrium REIT's total assets from RM310.74 million (as at end-June 2019) to RM487.6 million, the prospectus for its rights issue shows. It has the option to jointly undertake greenfield development with the vendor of its Penang property — Lumileds Malaysia — which is a leading manufacturer of high-power LEDs, according to the prospectus.
In its 2018 annual report, Atrium REIT Managers chairman Datuk Dr Ir Mohamad Khir Harun says the portfolio of properties is constantly evaluated for asset enhancement opportunities and properties that have been fully optimised are considered for divestment if the price is right but only as a last resort.
The REIT will likely require more funds for growth when a new suitable venture is found, greenfield or brownfield.
In September, it raised RM59.63 million (RM58.23 million net proceeds) from a two-for-five rights issue of 58.46 million units at RM1.02 each, which raised its fund size to 204.63 million units. The issue was 3.66% oversubscribed, thanks to excess applications. The Penang acquisition also needed an MTN programme, which raised gearing from 29.87% (RM92.83 million as at end-June) to 44.06% (RM214.83 million) — near its borrowing limit of 50% of total asset value, limiting headroom for expansion.
In June this year, billionaire Tan Sri Quek Leng Chan, co-founder of Hong Leong Group, and his Singaporean cousin Kwek Leng Beng were deemed substantial shareholders of the REIT after Hong Leong Assurance Bhd emerged as a new substantial shareholder with a 7.51% stake — a holding it maintained as at Sept 30, following the rights issue. Chan Kam Tuck, brother of the manager's CEO Kum Chong and chief operating officer Kum Cheong, remained the largest unitholder with a 20.72% stake as at Sept 30, filings with Bursa Malaysia show.
It is worth noting that the REIT's net property income rose from RM10.93 million in FY2015 to RM17.26 million in FY2018, representing a three-year compound annual growth rate (CAGR) of 16.4%. However, income available for distribution slipped from RM11.13 million to RM9.87 million over the same period.
In the nine months ended Sept 30, 2019, net property income rose 6.5% year on year to RM13.28 million but income available for distribution slipped 12% year on year to RM6.58 million as corporate exercises shored up trust expenses to RM6.9 million from RM5.09 million. Trust expenses included financing cost of RM3.3 million. Atrium Bayan Lepas 2 is expected to contribute positively to earnings in the fourth quarter with the acquisition completed on Oct 7.
Whether or not it succeeds in building a RM1 billion asset base by 2021, the REIT's total return of 9.1% between end-March 2016 and end-March 2019 secured it the inaugural The Edge Malaysia Centurion Club corporate award for highest returns to shareholders over three years in the REIT sector (below RM1 billion market capitalisation).
The REIT closed at RM1.05 on Nov 5, giving the company a market capitalisation of RM216.6 million. Market cap was RM135.2 million as at end-March. Only time will tell if its strategy will bag it more winnings in the future.
See the other winners in The Edge Malaysia Centurion Club Corporate Awards 2019 here.