The Edge's inaugural Centurion Club Awards honours mid-cap companies
Joyce Goh, Wong Ee Lin & Chester Tay / The Edge Financial Daily
November 13, 2019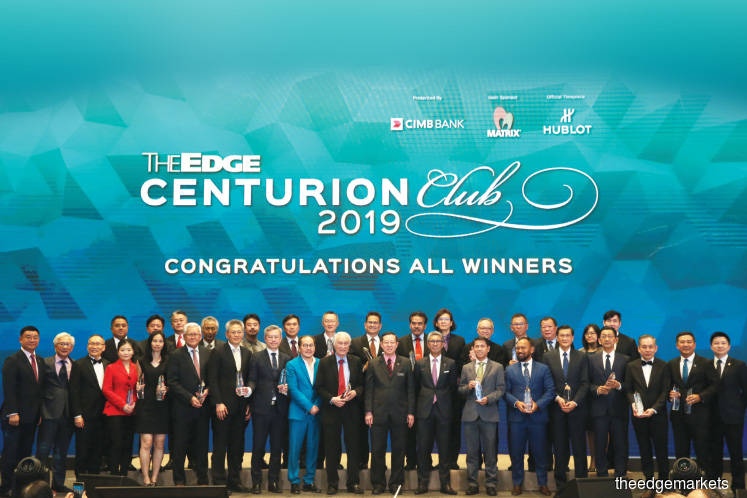 Spearheaded by The Edge Media Group, The Edge Malaysia-Centurion Club Corporate Awards aims to discover and give due recognition to mid-cap companies for their grit and merit. Photo by Sam Fong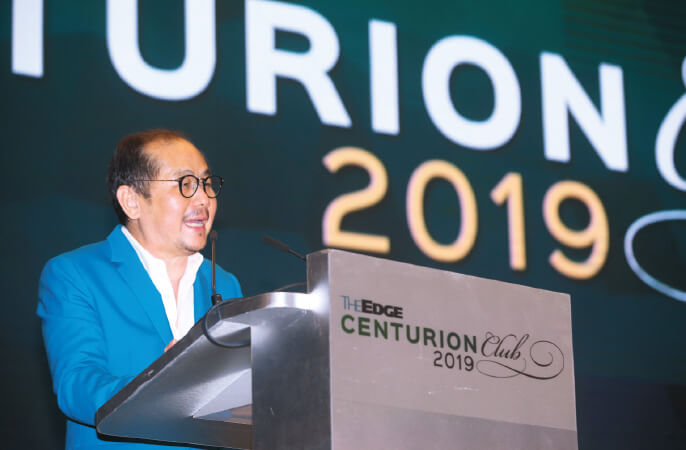 Tong: Relatively smaller companies which usually fall outside the radar of big investment funds need to be identified and recognised to encourage greater inclusiveness in Corporate Malaysia. Photo by Mohd Izwan Mohd Nazam
KUALA LUMPUR: The Edge Media Group kicked off its inaugural The Edge Malaysia-Centurion Club Corporate Awards last night to celebrate and recognise the country's best-performing mid-capitalisation (cap) companies. A total of 34 awards were presented to 25 companies at an exclusive dinner event graced by Finance Minister Lim Guan Eng.
"The Edge Malaysia-Centurion Club & Corporate Awards 2019 honour the best-performing companies in Malaysia with a market cap of RM100 million to below RM1 billion. Our objective is to encourage Malaysian companies to be more efficient, competitive and successful while being socially responsible," said The Edge Media Group chairman Datuk Tong Kooi Ong in his welcome address.
"Though The Edge Malaysia-Centurion Club members may not be as large in size and market cap, we think it is timely to recognise these deserving hidden gems with performance and potential that can match big conglomerates, and which tend to be overlooked by investors," Tong said.
He also said as this membership's market cap range includes more companies, it is all the more important to differentiate the good and bad performers. "These relatively smaller companies which usually fall outside the radar of big investment funds need to be identified and recognised to encourage greater inclusiveness in Corporate Malaysia," he added.
Spearheaded by The Edge Media Group, the initiative — aiming to discover and give due recognition to mid-cap companies for their grit and merit — is jointly supported by presenter CIMB Group Holdings Bhd, main sponsor Matrix Concepts Holdings Bhd, and official timepiece Hublot, represented by The Hour Glass Malaysia.
Among the criteria a company must meet to join the exclusive The Edge Malaysia-Centurion Club: It must be listed on Bursa Malaysia as at end-March of the current calendar year, it must not be suspended or be under Bursa's watch list, and it must not be delisted before the date of the awards. Its market cap must also be no less than RM100 million but below RM1 billion.
This year, there are 423 The Edge Malaysia-Centurion Club members with a collective market cap of RM133.3 billion as at March 29. They made a collective pre-tax profit of RM8.2 billion for the financial year 2018 (FY18), about RM12 billion for FY17, and RM9.4 billion for FY16. The companies raked in a net profit of RM4.3 billion for FY18, compared with FY17's RM7.2 billion and FY16's RM5.8 billion. Their total shareholders' fund grew to RM188.2 billion (FY18) from RM186.4 billion (FY17) and RM179.4 billion (FY16).
It is estimated that they contributed RM4 billion in taxes to the country's coffers in FY18.
Hai-O the night's biggest winner
Hai-O Enterprise Bhd emerged as the night's biggest winner and was recognised as the best performer among Centurion members with The Centurion of The Year Award.
It won two other awards — the Highest Growth in Profit after Tax over Three Years and the Highest Returns to Shareholders over Three Years — under the Consumer Products & Services sector.
Hai-O managing director Tan Keng Kang and his father Tan Kai Hee, Hai-O executive chairman and founder, were stunned after the group was announced winner of the night's top honours.
"My father is very grateful for this award from The Edge. It is really a surprise to him, to all of us. How is this possible? We thought this is impossible.
"This award is based on our 2016, 2017 and 2018 results. There are some challenges in 2019, but this will be a big motivation to our team and a recognition of their hard work. With this award, we hope to be able to achieve something bigger in the future," said Keng Kang.
The two sectoral awards Hai-O won are part of three award categories spread across 12 sectors, with the third category being the Highest Return on Equity over Three Years (see the full winners' list).
To qualify for these corporate awards, a member of The Edge Malaysia-Centurion Club must be listed for at least four calendar years before the cut-off date of end-March of the current year, as companies are evaluated based on their financial performance over three years.
Following a stringent and transparent assessment, the results were audited by Deloitte Malaysia.
Tengku Datuk Seri Zafrul Aziz, group chief executive officer (CEO) of CIMB Group — the presenter of The Edge Malaysia-Centurion Club Corporate Awards — said he sees great synergy between The Edge and CIMB in promoting best practices and uncovering hidden gems among listed Malaysian corporates in the mid-cap category.
"Congratulations to the winners. Promoting well-run companies is very much in line with CIMB's focus on sustainability. For CIMB, businesses should, as much as possible, create real, positive environmental, economic and social impact in markets where they operate," he said.
Main sponsor Matrix Concepts group managing director Ho Kong Soon said The Edge Malaysia-Centurion Club Corporate Awards is great for companies to build brand awareness and fuel collaborations and strategic alliances among companies in trades and investments in future.
"We are honoured to participate for the first time in honouring the country's best-performing small and medium enterprises and CEOs. Many of these companies are hidden gems and we hope this [recognition] will enable them to evolve and grow further. Our heartiest congratulations to this year's winners," Ho added.
The Hour Glass Malaysia general manager S K Teh said Hublot was excited to be part of last night's exclusive event, as he congratulated the winners.
"As a brand, Hublot strives to be first, unique and different. The opportunity to participate in this inaugural event is very exciting. We hope, in a small way, that we are able to support the Malaysian economy by discovering hidden gems in the local market. Indeed, these sectors tend to be overlooked by investors, so we see this as an opportunity for these companies to be recognised."
The Edge Malaysia-Centurion Club Corporate Awards is the second awards by The Edge Media Group after The Edge Billion Ringgit Club (BRC) ­— which marked its 10th iteration this year — that celebrates merit in Corporate Malaysia. The BRC honours those with a market cap of RM1 billion and more.
"The Edge is in the best position to initiate these awards promoting merit in Corporate Malaysia. Over the years, since our inaugural The Edge Malaysia publication in 1994, we have earned our reputation as Malaysia's leading financial and business publication. We have proven our integrity in providing unbiased, timely, independent and insightful analyses and commentaries on Corporate Malaysia," said Tong.
"Also, our award methodology and criteria are transparent and independently audited, [which] lend further credence to The Edge awards, coveted by Corporate Malaysia. Our awards are strictly merit-based," he added.
More details on The Edge Malaysia-Centurion Club members and last night's award winners will be published in a special supplement in The Edge Malaysia next week.