Highest Returns to Shareholders over three years
TECHNOLOGY
JHM Consolidation - A big fish in a small pond
Liew Jia Teng / The Edge Malaysia
November 18, 2019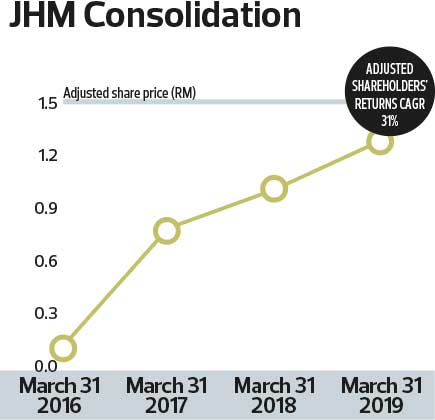 Penang-based JHM Consolidation Bhd, which makes microelectronics components (MECs), walked away with the award for highest returns to shareholders over three years in the technology sector.
The company designs and develops MECs that are used in sub-segments of the electronic component industry as well as electronic devices such as digital cameras, mobile phones, personal digital assistants and automobile lightings.
For the automotive and aerospace segments, it manufactures, among others, MECs for the production of high-brightness light-emitting diodes (LEDs).
JHM's cutting-edge capabilities in designing have enabled the group to not only penetrate multinational corporations (MNCs) but also allowed it to enlarge its customer base to cover larger market applications.
Notably, JHM's net profits leapt 215% to RM20.3 million in the financial year ended Dec 31, 2016 (FY2016) from RM6.4 million in FY2015.
Its net profit continued to grow year on year, albeit at a slower pace, at 46% to RM29.6 million in FY2017 and 19% to RM35.5 million in FY2018.
Its performance is impressive for an ACE Market-listed firm. In fact, the figures have exceeded the profit requirement of at least RM20 million in the past three full financial years for migration to the Main Market, as well as a net profit of at least RM6 million in the most recent financial year.
Suffice it to say that, in terms of profitability, JHM seems to be a big fish in a small pond.
During the evaluation period of March 31, 2016, to March 31, 2019, JHM's adjusted share price rose more than 10 times (from 11 sen to RM1.28). This translates into an adjusted three-year compound annual growth rate (CAGR) of 31% — the highest adjusted total return among The Edge Malaysia Centurion Club member companies in the technology sector.
The company declared a dividend per share of two sen in FY2017 and FY2018.
CEO and single largest shareholder Datuk Tan King Seng points out that its aerospace business venture has taken off well and will make contributions to the group in the near future.
"We have, in fact, sowed the seeds for initiating a game changer for a potentially secure and sustainable earnings base over the next 10 years," he wrote in JHM's annual report in 2018.
Tan also highlights that JHM's commendable revenue and earnings should be partly attributed to the synergistic and positive contributions from its acquisition of Mace Instrumentation Sdn Bhd, a Kedah-based testing measuring equipment maker.
Moreover, JHM also saw continuous demand for LED lighting applications in the automotive sector, which currently contributes 71% of the group's total revenue.
In a report dated Aug 26, RHB Research maintains a "buy" call on JHM with an unchanged target price of RM1.75, based on an unchanged 18 times forecast FY2020 price-earnings ratio.
The research house expects a stronger second half for JHM, with potential contributions from the aerospace segment, new automotive projects, as well as better contributions from Mace Instrumentation, which it bought in 2017 for RM48 million to strengthen its core business.
Mace Instrumentation specialises in customised precision sheet metal work, processing and value-added electro-mechanical assembly, and servicing various industries such as electronics, test and measurement, information technology, navigation, solar, medical and telecommunications.
JHM expanded the production space at Mace Instrumentation to 200,000 sq ft from 80,000 sq ft to cater for large-scale equipment metal enclosure orders from a US-based test and equipment company.
"Our forecasts remain unchanged as JHM's results were in line. Near-term catalysts include a rerating of its aerospace venture, a transfer of its listing to the Main Market of Bursa Malaysia and a growing industrial segment," says RHB Research. "Key risks include lower-than-expected demand, a stronger-than-expected ringgit, delays in commissioning new product lines and execution risk," it adds.
See the other winners in The Edge Malaysia Centurion Club Corporate Awards 2019 here.