Highest growth in profit after tax over three years
TECHNOLOGY
KESM Industries - Riding the wave of automotive semiconductors
Liew Jia Teng / The Edge Malaysia
November 18, 2019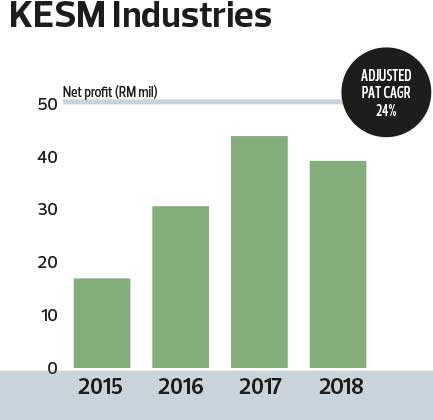 KESM Industries Bhd has come a long way from a small set-up in Kepong, Kuala Lumpur. Co-founded by Singaporean Samuel Lim Syn Soo in 1978, the company is today the world's largest independent burn-in and test service provider.
Burn-in is a semiconductor manufacturing process used to weed out potentially weak devices. The reliability of such components is critical to the performance of the finished product, such as cars, computers and phones.
Due to rapid business growth, KESM moved from Kepong to the Sungei Way Free Industrial Zone in Petaling Jaya, where it is still located. In 1983, it expanded its business in Malaysia by undertaking burn-in operations in the Bayan Lepas Free Trade Zone in Penang.
In 1994, the company was listed on the Main Board of the then Kuala Lumpur Stock Exchange. A year later, it extended its burn-in business to include testing services. In 2007, the group established a factory in Tianjin, China, to provide semiconductor burn-in and test services.
Today, KESM employs more than 2,500 people in PJ, Penang and China to serve the world's leading semiconductor manufacturers.
It is worth noting that the technology firm has had a strong earnings track record for the past three years since registering a net profit of RM17 million in its financial year ended July 31, 2015 (FY2015).
This is attributed to its growth strategy of serving world-class automotive semiconductor market leaders that are constantly creating new innovative chips with highly differentiated products that make cars smarter.
This relationship has brought many new opportunities for KESM, enabling it to build long-term success. Not surprisingly, the company has been crowned the winner for highest growth in profit after tax over three years in the technology sector.
KESM achieved a net profit of RM39.3 million in FY2018, RM44 million in FY2017 and RM30.7 million in FY2016, which translates into an adjusted compound annual growth rate (CAGR) of 24%.
For perspective, KESM saw its net profit grow 80% in FY2016 before it decelerated to 43% in FY2017 and drop by 10.5% in FY2018.
It should be noted that KESM's FY2019 core earnings dropped 76% year on year, largely due to an ongoing inventory correction. Management has guided a progressive recovery, barring any escalation in global trade tensions and macro slowdown.
Despite the weaker results, management announced a FY2019 dividend per share of nine sen or a payout of 62%, above its historical range of 10% to 31%.
"The result is satisfying, considering the anaemic health of the semiconductor industry," says Lim, who is KESM chairman and CEO, in a statement.
The world semiconductor industry is forecast to decline 9.6% year on year to US$429 billion in 2019, according to a leading industry research firm.
"We will continue to monitor and assess the evolving business landscape and maximise our position as the leader in selected market segments. Increasing profitability and shareholders' value remain high in our priorities," says Lim on the company's prospects.
Despite the inventory correction, Affin Hwang Capital analyst Kevin Low believes KESM remains well managed as reflected in its healthy performance in 4QFY2019 and net cash position. "We remain positive about the company's long-term prospects as it is well positioned as a captive burn-in and test provider for the automotive industry," he says in a Sept 20 report.
The research house maintains a "hold" rating with a higher target price of RM7.
According to absolutelystocks.com, KESM had a cash pile of RM149.3 million as at July 31, 2019, representing 46% of its market capitalisation of RM329 million as at Oct 11.
The counter fell 43% from a 52-week high of RM13.35 in mid-October last year to RM8.25 on Nov 12 this year. It is trading at a high price-earnings ratio of 52 times.
Bloomberg data shows one research house with a "buy" call and two with "hold" calls on KESM with a consensus target price of RM7.83.
See the other winners in The Edge Malaysia Centurion Club Corporate Awards 2019 here.