Highest Returns to Shareholders over three years
PLANTATION
Kluang Rubber - Sitting pretty in net cash position
Joyce Goh / The Edge Malaysia
November 18, 2019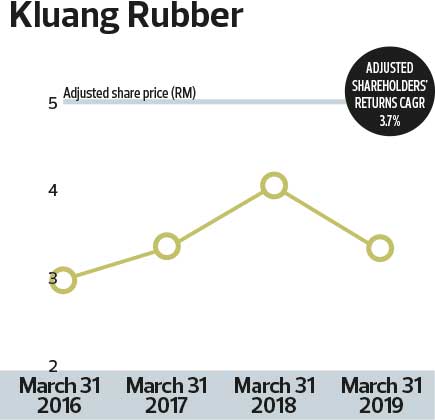 Not many may have realised that under- the-radar Kluang Rubber Co (M) Bhd was in a net cash position of RM267.9 million as at June 30, up from RM253.8 million a year ago, although the plantation company has not been spared from the impact of weak crude palm oil prices.
Kluang Rubber's net profit has increased from financial year ended June 30, 2017 (FY2017) to FY2018. It tripled to RM13.7 million in FY2018 from RM4.55 million in FY2017. In FY2016, the company reported a net profit of RM5.06 million.
While plantation is the group's core business, investment income contributed significantly to its earnings for FY2018.
Revenue from this segment jumped 21% to RM15 million in FY2018 from RM12.4 million in FY2017. Meanwhile, its plantation segment contributed RM14 million to its revenue in FY2018 — an 8.5% increase from RM12.9 million in FY2017.
The company's investment segment contributed RM13.6 million to its segment results while the plantation sector contributed RM7.3 million.
The bulk of Kluang Rubber's quoted share investments is held in Kuchai Development Bhd, Sungei Bagan Rubber Co (M) Bhd and Singapore Press Holdings Ltd.
"The group's position as long-term shareholders in public-listed entities has served us well over the years and we hope that it will continue to do so. The group also has holdings in investment funds and precious metals," it states.
Kluang Rubber's share price increased 11.7% from RM2.982 on March 25, 2016, to RM3.33 on March 21, 2019. The stock hit a peak of RM4.438 in January last year.
Overall, the company's returns to shareholders over three financial years stood at 3.7%, according to the methodology used for The Edge Malaysia Centurion Club Corporate Awards 2019.
This resulted in Kluang Rubber emerging as the winner of The Edge Malaysia Centurion Club corporate award for the highest returns to shareholders among companies with a market capitalisation of RM100 million to less than RM1 billion in the plantation segment.
The production of fresh fruit bunches on its Kluang estate grew from 9,048 tonnes in 2016 to 9,268 tonnes in 2017 and 11,431 tonnes in 2018. The FFB price per tonne increased from RM483 in 2016 to RM636 in 2017 but fell to RM552 in 2018.
In its 2018 annual report, Kluang Rubber's management says the group continues to be positive about the long-term fundamentals of the oil palm plantation industry and is consistently open to value-accretive opportunities in this sector. However, it cautions that the group's results will be affected by fluctuations in market valuation and foreign exchange differences.
In addition, it reveals that it is "cognizant of developments in Kluang, and is deliberating the possibilities for selected areas of interest, with shareholders to be updated in due course".
Like other plantation companies, Kluang Rubber's latest results have not been spared from the tougher operating landscape in the industry. For FY2019, the company fell into the red, registering a net loss of RM14.7 million.
Its weak performance was partly due to lower revenue, higher depreciation cost and income tax expense of RM13.53 million in FY2019 compared with the RM971,000 reported in FY2018 that came about due to an increase in the Real Property Gains Tax rate from 5% to 10%.
Kluang Rubber expects the performance of its plantation segment for FY2020 to be affected should the FFB price remain in the current range, it notes in its Aug 22 financial results announcement to Bursa.
"For FY2020, the company expects FFB production to be higher than that in FY2019," it says.
"The group's results are also dependent on the dividend income receivable from its investments, the market valuation of its public-listed investments and the effect of currency fluctuations. The results of the associated companies may be affected by the market valuation of its investments and currency fluctuations," it adds.
Last month, Kluang Rubber's board announced its recommendation for a first and final dividend of one sen per share as well as a special dividend of five sen per share for FY2019.
See the other winners in The Edge Malaysia Centurion Club Corporate Awards 2019 here.