Highest return on equity over three years & Highest growth in profit after tax over three years
HEALTHCARE
Kotra Industries - Flying under the radar of investors
Kang Siew Li / The Edge Malaysia
November 18, 2019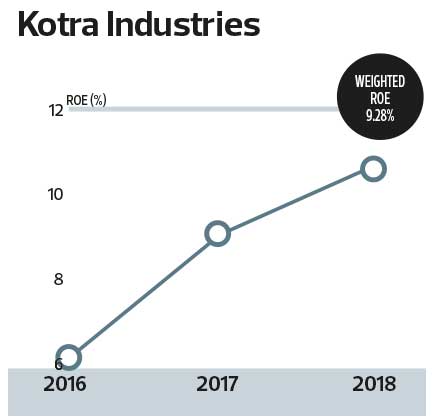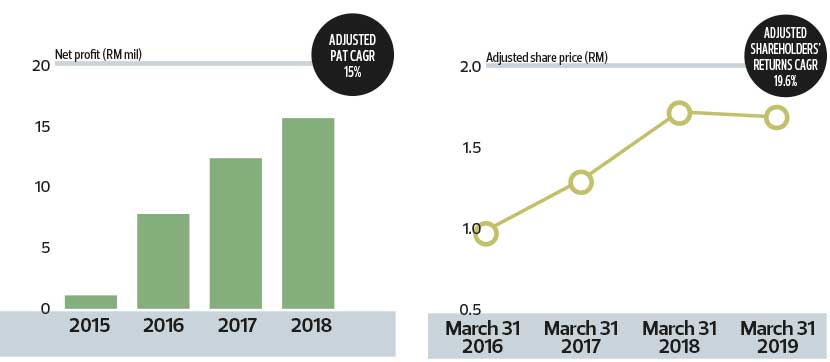 Kotra Industries Bhd has been flying under the radar of most investors even though it offers attractive yields and healthy growth prospects. The company is the winner of The Edge Malaysia Centurion Club corporate awards in all categories — Highest Return on Equity Over Three Years, Highest Growth in Profit After Tax Over Three Years and Highest Returns to Shareholders Over Three Years — in the healthcare sector.
Kotra's earnings have been growing and it has been paying dividends throughout the period under review (financial years 2016 to 2018).
The company's weighted ROE over three years was 9.28%, according to The Edge Malaysia Centurion Club's methodology, which put it at the top of this category, together with Y.S.P Southeast Asia Holding Bhd. Last year, Kotra's ROE came in at 10.67%, up from 9.07% in FY2017 ended June 30 but down from 6.14% in FY2016.
In FY2019, its net dividend payout was 7.4 sen per share, amounting to RM10.67 million, which works out to 48% of net profit.
Stripping out a blip in FY2015, when Kotra saw an 81% year-on-year drop in net profit due to weak sales, the pharmaceutical company's earnings growth trajectory has been pretty steady over the past few years.
Its profit after tax compound annual growth rate over the three-year period stood at 15% while CAGR for shareholders' returns was 19.6% — both the highest in the sector.
In FY2019, Kotra posted an unaudited net profit of RM22.2 million, a 41% increase from RM15.75 million in FY2018, which it attributes to the rationalisation of its selling and administration expenses, higher foreign exchange gain and lower finance cost incurred during the year.
This was despite revenue falling by a marginal 3% year on year to RM172.55 million on lower tender supply to local markets and sales of pharmaceutical products to the local and export markets. This was offset by higher sales of health supplements to export markets.
According to the group, research and development (R&D) plays a crucial role in ensuring the group's long-term success in the highly competitive pharmaceutical industry in Malaysia. It is also its intention to increase its shareholders' value through product innovation.
"Our dedicated in-house R&D team is constantly working on developing and formulating new as well as existing pharmaceutical products to support the growing demand and to fulfil hitherto unmet medical needs," says managing director Jimmy Piong Teck Onn in Kotra's 2018 annual report.
In FY2018, Kotra launched three products — Axcel Ciprofloxacin tablet, an antibiotic to treat bacterial infections and stop bacterial growth; Axcel Fluconazole capsule, an antifungal agent effective in treating fungal infections; and Vaxcel Fluconazole injection, a sterile antifungal agent used for systemic treatment of fungal infections.
Today, Kotra employs more than 700 people and has a presence in over 35 countries, including Vietnam, Myanmar, Indonesia and Cambodia. It manufactures its drugs at a facility in Melaka.
"Being a good manufacturing practice (GMP) facility equipped with state-of-the-art technology, we aim to place our utmost focus and efforts towards innovation to develop and produce quality pharmaceutical products to fulfil the needs in today's market in line with our vision of humanising health," says Piong.
"Our strategy is to be able to provide high-quality, safe and accessible products to all our customers at every stage of life as we firmly believe everyone deserves a healthier tomorrow."
Kotra was founded by Piong's late father Piong Nam Kim @ Piong Pak Kim. Today, the Piong family controls 60.1% of Kotra's shares, with Piong holding a 7.06% direct stake and 53.04% indirect stake through Piong Nam Kim Holdings Sdn Bhd.
As the current economic conditions remain challenging, Kotra says it will continue to strive to increase revenue in both the local and export markets going into FY2020.
It will also seek to secure new tenders and contract manufacturing to utilise its available production capacity while leveraging R&D activities for new products.
It expects to remain profitable in FY2020 on the assumption that the economic conditions remain relatively unchanged.
Its share price has gained 38% over the past five years to close at RM1.90 on Oct 22, for a market capitalisation of RM274.01 million.
See the other winners in The Edge Malaysia Centurion Club Corporate Awards 2019 here.