Highest growth in profit after tax over three years
PLANTATION
MHC Plantations - Expecting a boost from biogas plants
Esther Lee / The Edge Malaysia
November 18, 2019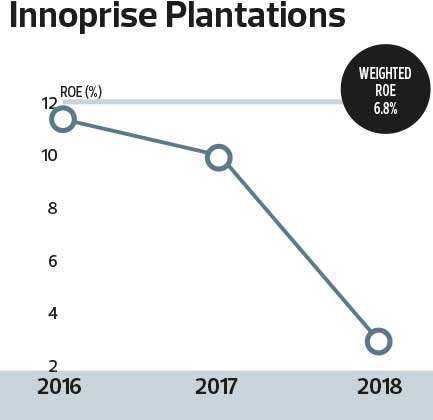 MHC Plantations Bhd is no new kid on the block. It has been around since 1960 and was listed on the then Kuala Lumpur Stock Exchange in November 2000. It is involved mainly in oil palm cultivation, the mining and selling of earth stones and the hospitality industry where it operates a hotel.
The company has a land bank of 25,500 acres in Sabah and 7,600 acres in Peninsular Malaysia and owns two palm oil mills with a total milling capacity of 135 metric tons per hour.
It has also ventured into oil palm renewable energy by investing in and operating two biomass power plants of 12mw and 3.8mw respectively in Sabah.
Its biogas power plant in Teluk Intan, Perak, has been upgraded so that it can be connected to the grid to export renewable energy to Tenaga Nasional Bhd. This commenced on Aug 8 this year at a feed-in tariff rate of 46.69 sen/kwh.
Note that among its peers, MHC Plantations achieved the highest growth in profit after tax over the last three years. Its net profit saw an adjusted compound annual growth rate (CAGR) of 1.6% between FY2015 and FY2018.
Net profit stood at RM3.35 million in FY2015, surged to RM16.01 million in FY2017 but was hit hard the following year when it came in at only RM4.46 million.
According to the company, the contraction in net profit in FY2018 was brought about by several factors but what had the biggest impact on its performance was the drop in the selling prices of crude palm oil (CPO), palm kernel (PK) and fresh fruit bunches (FFB). The company also saw a decline in FFB production of 6% that year.
In its third quarter ended Sept 30, 2019 (3QFY2019), the planter saw net profit tumble to RM1.37 million from RM1.85 million in the previous corresponding period while revenue dropped 3% to RM69.78 million.
Like many other planters, MHC Plantations' earnings and revenue were affected by the lower selling prices of CPO and PK.
In terms of production, the company saw an increase in FFB production of 13% while its PK and CPO production declined 5% and 2% respectively. Its oil extraction rate remained stable at 19.7% but it was lower than the average of 20.88%.
The company's tangible net asset value stood at RM1.04 as at Sept 30, 2019.
Moving forward, the group expects CPO prices to remain volatile for the rest of the year due to the fluctuations in exchange rates and uncertain global economic environment.
"The group remains focused on enhancing its operating efficiency and productivity in order to maintain a low operating cost," it says in its third-quarter financial performance announcement.
While commodity prices have remained weak this year, there may be good news for the company next year as many expect to see a strong recovery in CPO prices based on the expectation of a tighter supply of palm oil as production slows on the lack of new planting since 2015.
MHC Plantations also expects to see a better contribution from its Sandakan biogas plant following the completion of the replacement of three biogas engines in March this year with an approved incremental feed-in tariff rate of 6.99 sen/kWh with effect from Oct 1 this year.
See the other winners in The Edge Malaysia Centurion Club Corporate Awards 2019 here.