Highest growth in profit after tax over three years
REIT
Amanah Harta Tanah PNB - Lifted by rental growth despite challenging market
Tan Xue Ying / The Edge Malaysia
November 18, 2019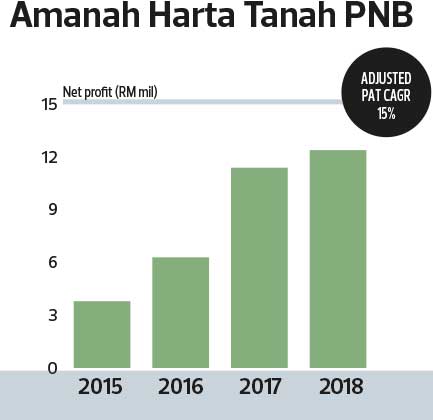 Amanah Harta Tanah PNB (AHP), a real estate investment trust (REIT) that owns and manages commercial properties such as offices and retail space, has emerged as a winner at the inaugural The Edge Malaysia
Centurion Club Corporate Awards for its commendable earnings performance.
AHP's net realised income doubled from RM6.3 million in its financial year ended Dec 31, 2016 (FY2016), to RM12.4 million in FY2018, while its distribution per unit improved from 4.5 sen in FY2016 to 5.63 sen in FY2018.
This translates into an adjusted compound annual growth rate of 15% over the three financial years ended Dec 31 from 2016 (FY2016) to FY2018. That makes AHP the star performer with the highest growth in profit after tax over three financial years among REITs that have a market capitalisation of between RM100 million and below RM1 billion.
Against the backdrop of a challenging property market that is experiencing an oversupply, AHP turned in a realised net income after tax of RM12.4 million in the financial year ended Dec 31, 2018 (FY2018), up 8.8% from RM11.4 million in FY2017, with improved rental rates for its properties.
According to its 2018 annual report, there was a 5.6% upward rental revision at its four-storey commercial building, Bangunan AHP, during the year.
AHP's stronger annual earnings resulted in its manager, Pelaburan Hartanah Nasional Bhd — a wholly-owned subsidiary of Permodalan Nasional Bhd (PNB) — declaring a higher income distribution of 5.63 sen per unit, representing an 8.3% increase from the 5.2 sen per unit paid in 2017.
This brings the REIT's income distribution yield to 7.22% in 2018 — higher than the 6.23% paid out in 2017. As at end-December 2018, AHP had seven investment properties with an average occupancy rate of 86.3%. Five of the properties — namely office buildings Plaza VADS and Sri Impian, Bangunan AHP and shopoffices in Taman Tun Dr Ismail and Taman Melawati — are located in Kuala Lumpur. The others are the Mydin Hypermarket Seremban 2, Negeri Sembilan, and Asia City, a shopoffice in Kota Kinabalu, Sabah.
As at end-December 2018, AHP's total investment amounted to RM458.8 million, represented by investment in real estate at a fair value of RM438.9 million and short-term investment of RM19.8 million.
Its total asset value grew slightly to RM482.8 million in 2018 from RM482.9 million in 2017 while its gearing ratio fell to 38.8% from 39.3% in 2017 following a partial repayment of the financing facility previously obtained for the upgrading of Plaza VADS.
Last year was an eventful one for AHP in many ways. In July, it saw a change in leadership when chairman Tan Sri Abdul Wahid Omar announced his retirement. Abdul Wahid was appointed to AHP's board in August 2016 following his appointment as group chairman of PNB. He was succeeded by Datuk Johan Ariffin, who was then a director.
It was also the year AHP completed most of its asset enhancement initiatives undertaken in previous years and the year the fund exercised its prudent investment strategy by entering into three sales and purchase agreements (SPAs).
AHP signed the SPAs last December with Arensi (M) Sdn Bhd, Geo Global Management Sdn Bhd and ARH Jurukur Bahan Sdn Bhd for the disposal of Sri Impian and two of its shopoffices for a total consideration of RM24.2 million — higher than the properties' combined market value of RM21.6 million.
AHP's unit price has held steady against the overall volatile market since a year ago. As at end-March 2019, the stock was at 77 sen per unit, giving the REIT a market capitalisation of RM169.4 million.
AHP, in its latest quarterly filing, says it is positive on its current financial year ending Dec 31, 2019, in view of the sustainable level of occupancy of its properties.
See the other winners in The Edge Malaysia Centurion Club Corporate Awards 2019 here.