Highest return on equity over three years
INDUSTRIAL PRODUCTS & SERVICES
Scicom - Stable returns amid uncertainty
Wong Ee Lin / The Edge Malaysia
November 18, 2019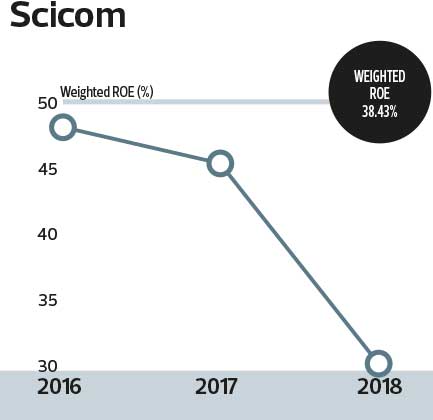 Government tech provider Scicom (MSC) Bhd weathered the unexpected change of government last year fairly well, amid global economic uncertainties.
Global economic challenges have resulted in a decreased contract volume, which has weighed down on Scicom's earnings. However, returns to shareholders have been steady and the company has been in a net cash position since 2014 — as at June 30, cash balances totalled RM40.5 million.
Balance sheet aside, Scicom's return on equity (ROE) to its shareholders has been well above its peers despite a downward trend from its financial year ended June 30, 2016 (FY2016) to FY2018. ROE stood at 48.18% in FY2016, 45.43% in FY2017 and 30.33% in FY2018.
The company's three-year weighted ROE of 38.43% for the period in review resulted in Scicom winning The Edge Malaysia Centurion Club corporate award for the highest ROE over the three years in the industrial products and services sector.
Scicom has been paying dividends amounting to RM32 million annually for the past three consecutive financial years.
Since its initial public offering in 2005, the company's shares have delivered a compound annual total return to shareholders, including dividends reinvested at spot prices, of 667.13%, according to its 2019 annual report.
A quick check shows that Scicom has been maintaining a healthy balance sheet, enabling it to support its operational requirements as well as to continue paying steady dividends. The group generated free cash flows of about RM48.5 million for FY2018 and RM15.9 million for FY2019.
Although there is no formal dividend policy in place, the group is committed to rewarding its shareholders with a sustainable dividend payout. The group has, over the last five years, declared an average payout of 83% of its net profit in the form of declared dividends.
Its share price has been in decline since March 2016. From a closing high of RM2.126 on June 16, 2017, the stock hit a closing low of 89.7 sen on Dec 14, 2018. The downward trend of the share price during that period was in part due negative news and sentiment surrounding e-government solutions providers. Nonetheless, should any contract materialise, it would be a boost to Scicom.
Over the past 12 months, the stock has fallen 36% to close at RM1.01 on Oct 31, valuing the company at RM359 million. At this price, Scicom is trading at a commendable trailing 12-month dividend yield of 5.45%.
According to Bloomberg data, two research houses are tracking Scicom — Affin Hwang Research has a "hold" call on the stock with a 91 sen target price while MIDF Research has a "neutral" call with a 96 sen target price.
In an August report, MIDF Research says Scicom is taking part in several tenders for local and international government projects through its Gov-tech division. It is understood that the company is among 30 bidders taking part in the tendering process for the Integrated Immigration System.
"We understand that this is a multi-stage tendering process and the details of the project are still sketchy while the outcome may be fluid," says MIDF Research in an Aug 29 report, adding that it has not factored in any project wins at this juncture as it may take time from the point of the project award to the implementation and monetisation of the business win.
Nonetheless, MIDF research expects the business process outsourcing segment to be the main income driver in the near term as a recovery in the Education Malaysia Global Services segment may take time.
Moving into FY2020, Scicom revealed in its 2019 annual report that it will be increasing its focus on sales and improving its business-to-consumer and business-to-government marketing processes to generate a stronger pipeline.
See the other winners in The Edge Malaysia Centurion Club Corporate Awards 2019 here.