Highest return on equity over three years
HEALTHCARE
Y.S.P. Southeast Asia Holding - Years of preparation work stands the company in good stead
Kang Siew Li / The Edge Malaysia
November 18, 2019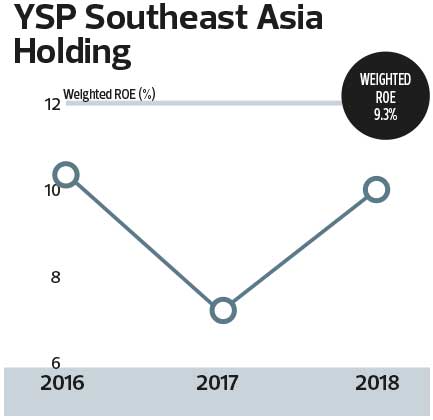 Y.S.P. Southeast Asia Holding Bhd has continued to deliver solid results in a market that is becoming increasingly competitive as more affordable, locally produced generic drugs enter the fray.
Y.S.P. SAH's dividend payments have been consistent over the past few years, which made it the joint winner of this year's The Edge Malaysia Centurion Club corporate award for Highest Return on Equity Over Three Years (FY2016-FY2018) in the healthcare sector.
It has been paying out about 40% of its earnings. Last year, it declared a first and final dividend of seven sen per share and a special dividend of 1.5 sen per share totalling RM11.76 million, which was 39% of net profit in FY2018 ended Dec 31. In FY2017, its net dividend payout was seven sen per share, or RM9.57 million, which works out to 47% of net profit.
Y.S.P. SAH's weighted ROE over three years was 9.3%, according to The Edge Malaysia Centurion Club's methodology. Last year, its ROE came in at 10%, up from 7.2% in FY2017 but down from 10.4% in FY2016.
The pharmaceutical maker believes years of groundwork and effort poured in to develop its business ahead of time have put it in a good position to thrive in a competitive environment.
According to the Malaysian Pharmaceutical Association of Malaysia, the local pharmaceutical market was valued at RM7.5 billion as at the third quarter of last year. Generic drugs accounted for 21% of the total market, over-the-counter drugs, 24%, and originator drugs, 55%.
Market growth has been relatively fast, at 8% to 10% per year in the last decade, Y.S.P. SAH chairman Datuk Dr Anis Ahmad says in the group's 2018 annual report.
He notes that rising incidences of medical conditions commonly associated with urbanisation, such as non-communicable diseases, have created a vibrant consumer market for health products.
"Increasing health literacy has also fuelled concern over the threat of chronic diseases. This, coupled with rising disposable income, resulted in a noticeable growth in the consumption of self-care products, and the demand is expected to continue growing," he says.
Against this backdrop, imported drugs continue to have a commanding hold on the Malaysian market, proving a formidable task for local pharmaceutical manufacturers like Y.S.P. SAH to grow their current market share of 30%.
Then there are the challenges on the global front. Dominant among them are the increasing regulatory requirements for imported drugs to be registered in some export markets, Anis says.
Still, Y.S.P. SAH managed to close FY2018 on a solid footing. It reported a record net profit and revenue of RM30.13 million and RM288.76 million respectively, which the group attributes to contributions from both domestic and export operations, as well as cost efficiencies.
Analysts see potential in Y.S.P. SAH. "We believe the undemanding valuation and reasonable dividend yields (3% to 4% per year) offer minimal risk for investors to ride its earnings improvement," Affin Hwang Investment Bank writes in an Aug 29 note to investors.
CGS-CIMB Research concurs, noting that Y.S.P. SAH's valuation remains attractive, further supported by a reasonable dividend yield of 3.4% to 5.2% in FY2019 to FY2021.
The stock continues to be supported by its net cash position of RM46.3 million as at end-June this year, it says in a separate note on Aug 29.
Y.S.P. SAH's total registered products now stand at 464, comprising 355 pharmaceutical products and 109 veterinary products. President and group managing director Datuk Dr Lee Fang Hsin and his family are the group's largest shareholders, holding a 10.07% direct stake and 37.84% indirect stake through YSP International Co Ltd as at March 29.
Moving forward, the group expects 2019 to remain challenging. "We will continue to focus on improving operational efficiency, increasing our product offerings through concerted efforts in product registration and effective marketing, promotional and sales initiatives to gain a more extensive market penetration and improving our market share," says Anis.
Concurrently, efforts to increase brand and product awareness will be initiated by partnering local partners for marketing, advertising and promotion, as well as building a more pronounced online presence in product marketing and sales.
In the area of exports, Anis says the plan is to increase Y.S.P. SAH's participation in government tenders in Asean and African countries and also to advance into developed markets such as Canada, Australia and New Zealand.
Its share price gained 55% over the past five years to close at RM2.25 on Oct 24, for a market capitalisation of RM314.06 million.
See the other winners in The Edge Malaysia Centurion Club Corporate Awards 2019 here.