Highest return on equity over three years & Highest growth in profit after tax over three years
PROPERTY
Country View - Delivering sustainable growth despite tough conditions
Supriya Surendran / The Edge Malaysia
November 18, 2019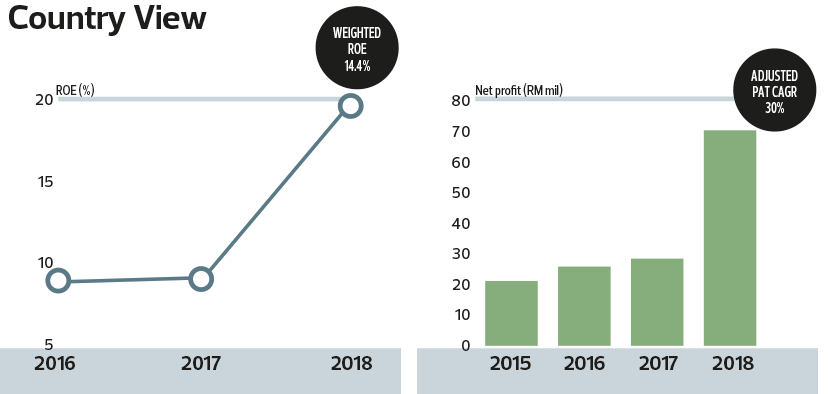 In its 2018 annual report, Country View Bhd says, "Sustainability is integral to the way we conduct our business activities."
Not surprisingly, this philosophy helped the Johor-based property developer pick up not one but two awards in the inaugural The Edge Malaysia Centurion Club Corporate Awards 2019. The awards are for the Highest Return on Equity Over Three Years and the Highest Growth in Profit After Tax Over Three Years in the property sector.
It is worth noting though that this high performer receives hardly any media coverage because its board of directors keep a relatively low profile.
Incorporated almost 40 years ago and listed on the Kuala Lumpur Stock Exchange (now Bursa Malaysia) in 2002, Country View and its subsidiaries are involved in property development, property investment and investment holding.
Since the inception of its maiden project, Taman Universiti in Johor Baru, in the 1980s, the group has completed and sold thousands of residential and commercial properties to date. Taman Universiti is a suburb located near Universiti Teknologi Malaysia.
Country View's focus, though, is township developments with landed properties, the most recent of which is mixed-use project Taman Nusa Sentral, which occupies 313.17 acres of prime land in Iskandar Puteri, Johor.
The group's first serviced apartment project is One Sentral, which comprises two 20-storey towers.
Between its financial year ended Nov 30, 2015 (FY2015) and FY2018, Country View's profit after tax grew 233%, from RM21.16 million in FY2015 to RM70.51 million in FY2018. This translates into an adjusted compound annual growth rate (CAGR) of 30%.
Revenue fell from RM161.09 million in FY2016 to RM121.95 million in FY2017 but grew to RM236.06 million in FY2018.
The surge in the company's revenue and profit in FY2018 was attributed largely to the completion of the disposal of its land in Kulim, Kedah, for RM119.95 million. This also helped bump up its cash pile to RM54.7 million in FY2018 from RM7.9 million in FY2017.
The group's gearing ratio stood at 0.79 times in FY2018 compared with 0.25 times in FY2017.
As at the end of FY2018, the group's total assets amounted to RM765.2 million, up from RM466.4 million in FY2017, with the completion of the acquisition of land in Iskandar Puteri. The 163.92-acre tract was purchased from Bandar Nusajaya Development Sdn Bhd, a wholly-owned subsidiary of UEM Sunrise Bhd, for a total cash consideration of RM310 million.
Country View delivered a return on equity (ROE) of 19.73% in FY2018, following 9.1% in FY2017 and 8.84% in FY2016.
Country View's share price gained 11% between March 31, 2016 and March 31, 2019, after surging to a high of RM1.66 in July 2017 from RM1.36 on March 31, 2016.
The company declared a dividend per share of five sen in FY2017 and FY2018, lower than the 10 sen it declared in FY2016. Its shareholders have received a total dividend per share of 20 sen in the past three financial years.
As for its prospects, the developer says in its latest quarterly financial report that it remains cautious in view of the continued stringent lending requirements of the financial institutions as well as the intense competition among developers and weak market sentiment.
It expects revenue and profit in FY2019 to be driven by its three-storey cluster houses (Spring Meadow and Winter Sonata series), three-storey terraced houses (Superlink XL), three-storey shopoffices, One Sentral Serviced Residence and affordable homes under the Rumah Mampu Milik Johor scheme in Taman Nusa Sentral in Iskandar Puteri.
See the other winners in The Edge Malaysia Centurion Club Corporate Awards 2019 here.