Highest growth in profit after tax over three years
INDUSTRIAL PRODUCTS & SERVICES
Dufu Technology Corp - HDD component maker surpasses itself
Cindy Yeap / The Edge Malaysia
November 18, 2019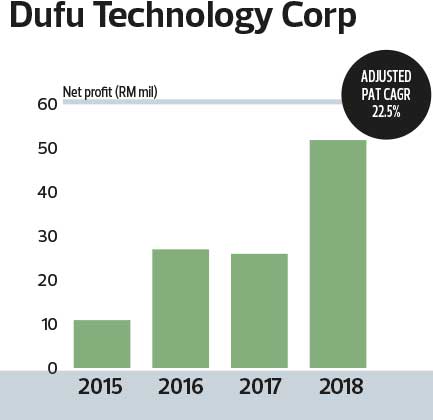 In his message to shareholders in the company's 2018 annual report, Dufu Technology Corp Bhd executive chairman Lee Hui-Ta @ Li Hui Ta notes that the year was "the best in our company's 30-year history".
"We delivered our strongest financial performance, breaking records on many levels," Lee says, pointing out how revenue jumped 33.2% year on year to RM241.45 million for the fiscal year ended Dec 31, 2018 (FY2018), breaching the RM200 million mark for the first time. Improved operating margins also helped drive earnings to an all-time high.
The net profit of RM51.86 million in FY2018 was five times the RM10.94 million recorded in FY2015, reflecting a three-year compound annual growth rate (CAGR) of 67.96%.
Even with the risk-weighted adjustments applied to The Edge Malaysia Centurion Club Corporate Awards to reflect how it is harder for large companies to grow profits by the same percentages as smaller companies, Dufu's three-year CAGR was 22.5% — enough to help it win the award for the highest growth in profit after tax over three years in the industrial products and services sector.
Consumers may not have heard of Dufu, which supplies disk spacers and other precision components to the hard disk drive (HDD) industry, but they would likely recognise its clients Seagate, Toshiba and Western Digital.
The improvement in Dufu's earnings last year saw its share price and market capitalisation rise to all-time highs.
"Our focus, successful execution and capital discipline were the main attributable factors to our success. We were very much customer-focused and our robust sales growth was mainly due to the foundations we have laid over the years. On a strategic level, we strive for 'preferred supplier status' by continuous improvement and creating value for customers," Lee says.
According to him, Dufu is keen to invest in securing its growth prospects. For instance, RM12.9 million was reinvested in FY2018, mainly in computer numerical-controlled machinery and related accessories. "We invested RM23.75 million in property, plant and equipment — quadruple the amount we invested in FY2017. Our strong operational strength and improved credit metrics allow us to maintain a healthy cash reserve and internally fund our asset acquisitions," Lee adds.
On top of cash, shareholders were also paid dividends in specie with the company announcing a one-for-two bonus issue in November 2018. On March 28, Dufu declared one treasury share for every 20 existing shares (paid on May 30).
If Dufu was pleased with crossing the RM500 million mark in 2018, it would be even happier this year with market cap of more than RM700 million at the time of writing.
In the first half of 2019 (1H2019), net profit slipped 16.7% year on year to RM14.64 million on revenue that fell 7.9% year on year to RM102.67 million.
"As indicated by our guidance, we foresee a slowdown in the HDD business environment in the first half of 2019. Nevertheless, we should be seeing improved volume loading by customers in the second half. Overall, we are still confident of the longer-term outlook for HDD," read notes accompanying Dufu's 1H2019 earnings.
"The demand for HDD will be in capacity storage for data centres and other enterprise applications, driven by the desire for cloud storage. The amount of data generated and stored daily by industries and large organisations is growing fast in line with the changing trends that are impacting businesses, such as machine learning, artificial intelligence, Internet of Things, large video surveillance, 'smart city' initiatives and the emergence of fifth-generation mobile communication network (5G) future applications … In the non-HDD segment, the group is working closely with customers to create value and will continue to seek opportunities to venture into [synergistic] related segments," it says, expecting earnings to be "satisfactory in the coming quarters".
At the time of writing, Dufu had yet to announce its earnings for the third quarter ended Sept 30, 2019, which could influence investor sentiment going forward as will its resilience as global demand favours solid state drives (SSD) over HDD.
See the other winners in The Edge Malaysia Centurion Club Corporate Awards 2019 here.