Highest growth in profit after tax over three years
CONSTRUCTION
George Kent - Re-pivoting to water meter manufacturing
Kamarul Azhar / The Edge Malaysia
November 18, 2019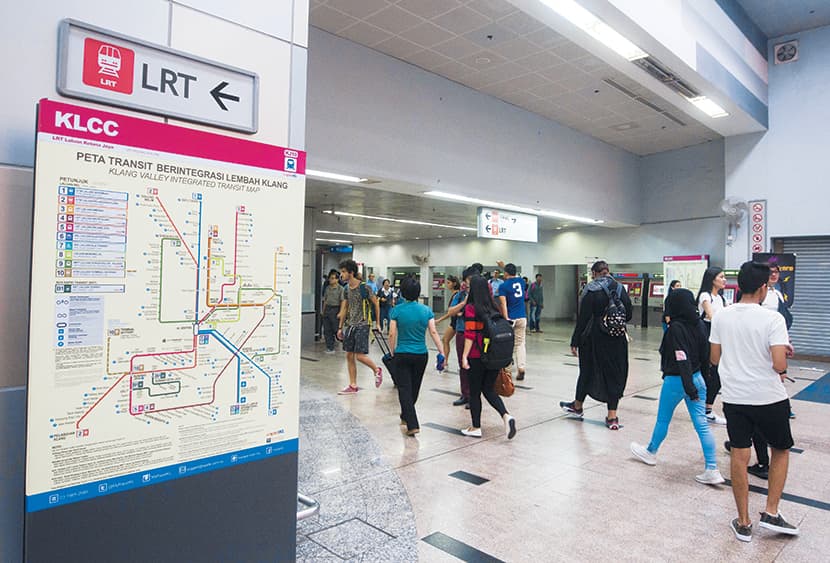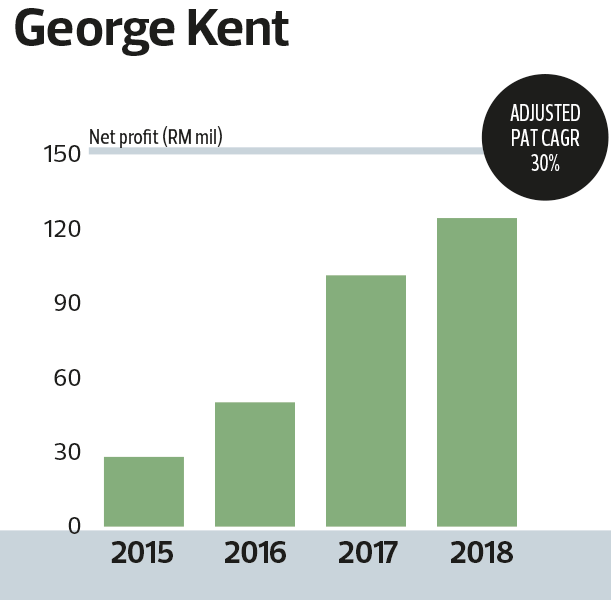 The construction sector is among the most affected by the new government's policy changes, mainly because public projects are the main source of jobs for it.
The impact of the government's more prudent fiscal policy is reflected in George Kent (M) Bhd's profit after tax (PAT) growth. However, the company, which started out as a water meter maker, stands out among its peers with a market capitalisation of between RM100 million and RM1 billion in the construction industry in terms of PAT growth over three financial years.
Its PAT grew at a breakneck speed from RM28.08 million in the financial year ended Jan 31, 2015 (FY2015) to a record-high of RM124.4 million in FY2018. Its PAT was RM101.27 million in FY2017 and RM124.4 million in FY2018.
Its adjusted compound annual growth rate (CAGR) was at 30% between FY2016 and FY2018.
During the period under review (FY2015 to FY2018), George Kent was a stock market darling due to its ability to secure construction jobs. In March last year, it was valued at about RM2.5 billion.
George Kent's transformation from a humble water meter manufacturer and distributor to a billion-ringgit construction company started when it secured the engineering, procurement, construction, testing and commissioning of the Ampang LRT Line Extension Project in 2012. Announced in July 2012 as costing RM955.84 million, the project was delivered in December 2016.
It was followed by bigger contracts in the rail infrastructure development sector. In 2015, together with Malaysian Resources Corp Bhd (MRCB), George Kent was made the project delivery partner for the LRT3 project, which had a construction cost of RM9 billion.
In August 2016, the partners were awarded a RM1.01 billion system work package of the MRT Sungai Buloh-Serdang-Putrajaya (SSP) Line (MRT2) by Mass Rapid Transit Corp Sdn Bhd (MRT Corp).
These contracts fuelled the growth in George Kent's PAT. However, after the change in government last year, construction companies that had secured public contracts found themselves in a quagmire as most of the infrastructure contracts were put under review.
After negotiations, the PDP contract for LRT3 that George Kent had signed with Prasarana Malaysia Bhd was changed to a fixed price contract worth RM11.4 billion. The contract has also been extended to 2024, from August 2020.
In FY2019, George Kent's PAT shrank 30.6% to RM86.33 million from RM124.4 million in FY2018.
George Kent is trying to re-pivot to its original core business of water meter manufacturing and distribution. In the company's 2019 annual report, chairman Tan Sri Tan Kay Hock says the group is actively seeking to penetrate new markets while expanding its existing markets.
"Our long-stated strategy is to further develop our metering business. Substantial resources continue to be channelled towards the expansion of our water meter market of over 40 countries, as well as the penetration of new markets with significant potential," says Tan, who is also the controlling shareholder of the company.