Highest Returns to Shareholders over three years
TRANSPORT & LOGISTICS
Tasco - Defends shareholder returns despite growing pains
Khairie Hisyam Aliman / The Edge Malaysia
November 18, 2019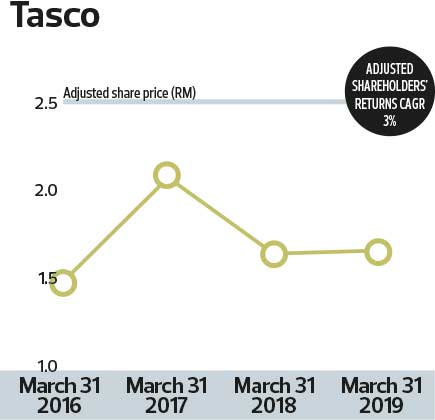 Amid an intensely competitive business landscape, Tasco Bhd has shone by virtue of successfully defending the returns of its shareholders despite biting the bullet to venture into new business areas.
In the three-year period under review, the company's share price has fluctuated but remains above water. In the 36 months up to March 31 this year, the counter's adjusted price had risen as high as RM2.61 and fallen as low as RM1.
However, total shareholder returns remained positive, with a compound annual growth rate of 3.9% during the review period, giving the company the highest shareholders' return award for transport and logistics in The Edge Malaysia Centurion Club Corporate Awards 2019.
While the share price has remained under pressure, Tasco's continuing profitability has sustained its dividend flow to shareholders as they await the fruit of its new ventures.
The stock started the financial year ended March 31, 2017 (FY2017) at RM1.481 and rose to RM2.075 over 12 months, but declined to RM1.642 by March 31, 2018 and settled at RM1.66 on March 31, 2019. The company declared an annual dividend of 4.5 sen in FY2017; 4.5 sen in FY2018; and 2.5 sen in FY2019.
The dividends remained resilient despite pressure on its margins — while revenue grew from RM584.4 million in FY2017 to RM736.8 million in FY2019, profit after tax and minority interests (Patami) declined from RM30.67 million to RM13.06 million over the same period.
From Tasco's perspective, its bottom line has been hit in recent years by high start-up costs from its venture into new growth areas.
In 2017, it entered the cold chain logistics segment via multiple acquisitions worth a total of RM215.99 million. The cold chain business is new for Tasco and offers higher margins than its traditional dry logistics business, but with more demanding business requirements.
The company had told The Edge that dry logistics operations offer about 8% margins versus the high teens for a full-fledged cold chain operation.
Tasco also ventured into the trading and convenience retail logistics businesses in FY2018 in a joint venture with Yee Lee Trading Co Sdn Bhd, which benefited both its dry and cold chain logistics arms.
The multi-front expansions came with a hefty price tag, however, as they were funded through bank borrowings, thus straining cash flow due to repayment commitments as well as further investments in the cold chain segment, among others.
From total borrowings of RM48.41 million as at March 31, 2017, Tasco's bank borrowings surged to RM275.95 million a year later and to RM371.12 million as at March 31, 2019.
This year, however, the tide is turning for Tasco's new ventures and hope is blossoming that shareholder returns will rise even further.
For one, its shareholders approved a divestment of a 30% stake in Tasco's cold chain unit to the Japan Overseas Infrastructure Investment Corp for Transport and Urban Development (JOIN) for RM125 million.
JOIN's entry as a strategic partner is positive for Tasco, as the fund is backed by the Japanese government, which owns 87.19% equity interest in JOIN. The other shareholders comprise various other Japanese corporations.
"JOIN and Tasco intend to pool their resources to advance (Tasco's) expertise and technical capability in the area of cold chain logistics solutions, supported by JOIN's global network and its links to the Japanese government. This could provide access to other markets in which JOIN has a presence," Tasco said in its latest annual report.
As for the company's trading and convenience logistics arms, the company says in its latest annual report that the learning curve is mostly behind it now. "While our teams have had a steep initial learning curve over the last one year or so, and the start-up and training costs have been quite substantial. We are more well-versed in this business (of supplying convenience outlets) today. As more retail players hop on the bandwagon and see the merits of tapping our unique offering, volume is bound to grow … and we anticipate that our profit will rise as well."
See the other winners in The Edge Malaysia Centurion Club Corporate Awards 2019 here.