Highest return on equity over three years & Highest Returns to Shareholders over three years
ENERGY
Deleum - Financials show company's model sustainable
Jose Barrock / The Edge Malaysia
November 18, 2019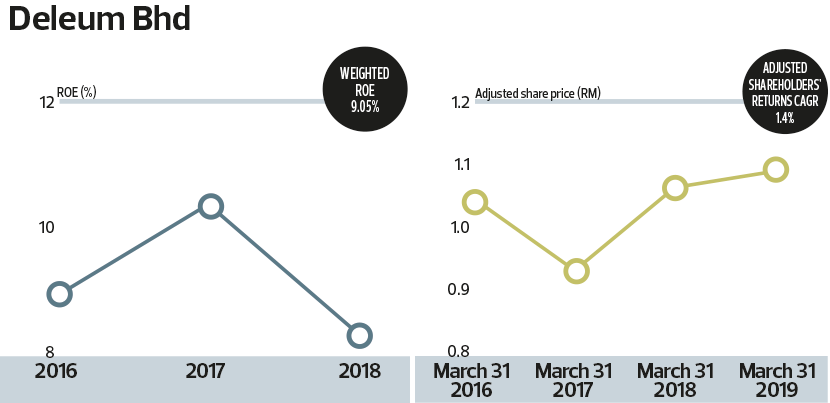 Oil and gas (O&G) outfit Deleum Bhd came out tops in two categories of The Edge Malaysia Centurion Club Corporate Awards 2019, namely the Highest Return on Equity Over Three Years and the Highest Returns to Shareholders Over Three Years.
The company managed an average weighted ROE of 9.1% between FY2016 and FY2018 with ROE of 8.93% in FY2016, 10.37% in FY2017 and 8.31% in FY2018. This is despite its fortunes being entwined with oil prices, which tumbled from more than US$100 per barrel in end-July 2014 and have yet to fully recover.
Oil prices hit a multi-year low of US$26 per barrel on the New York Mercantile Exchange in February 2016 but gained more than 100% by the end of that year. Over the next three years, prices averaged US$53 per barrel, which allowed black gold exploration and related companies such as Deleum to regain their footing.
The company's shareholders' returns recorded an adjusted compound annual growth rate (CAGR) of 1.4% over the period under review ended March 2019. Deleum mustered shareholders' returns of 1.045% in 1QFY2016 but that dipped to 0.931% a year later, strengthened to 1.064% in 1QFY2018 and 1.09% March this year.
Deleum has a policy of paying at least 50% of its net profit as dividends and it maintained a net cash position even when other O&G counters were struggling. Indeed, it has consistently paid dividends since 2007. It had a gross indicated dividend yield of 3.67% as at Oct 30, when its share price closed at RM1.01. At its close on Oct 31, the company had a market capitalisation of RM405.6 million
As at mid-March 2019, the company's non-independent non-executive chairman Datuk Izham Mahmud was its largest shareholder with a direct stake of 37.26% in it and via IM Holdings Sdn Bhd and Lantas Mutiara Sdn Bhd. Non-independent non-executive deputy chairman Datuk Vivekananthan MV Nathan held a direct stake of 31.05% and via Lantas Mutiara while Datin Sian Rahimah Abdullah and her family owned 12.01% equity interest via Hartapac Sdn Bhd, according to Deleum's 2018 annual report.
Judging by its recent financials, Deleum's model seems sustainable.
In 1HFY2019, the company registered a net profit of RM11.47 million on sales of RM339.66 million. As at end-June, it had cash and bank balances of RM102.06 million while on the other side of the balance sheet, its long-term debt commitments and short-term borrowings stood at RM62.07 million and RM6.05 million respectively. During the period under review, Deleum had retained earnings of RM184.92 million.
On its prospects for 2019, Deleum says in the notes accompanying its financials for 2Q2019 that the O&G industry continues to remain volatile with oil prices rising from US$46 per barrel in January, peaking at US$63 at end-April and dropping to US$53 in August.
Furthermore, although there was increased activity in the domestic upstream sector in 2Q2019, it is uncertain for how long the positive trend will last.
"Deleum shall remain cautious on its performance outlook for the remaining of the financial year and will continue to push for cost efficiencies and effectiveness in order to enhance its sustainability and to improve its profit margins," the company says.
Deleum seems well hedged to weather any further downturn in the O&G sector with its diversified portfolio, which includes oilfield services for topside and downhole support. The services consist of, among others, the provision of wireline equipment and logging, completion, integrated wellhead maintenance, oilfield chemical and other oilfield products and technical aspects and integrated corrosion.
See the other winners in The Edge Malaysia Centurion Club Corporate Awards 2019 here.