Highest Returns to Shareholders over three years
TELECOMMUNICATIONS & MEDIA + UTILITIES
PBA Holdings Shareholders rewarded since listing in 2002
Adeline Paul Raj / The Edge Malaysia
November 18, 2019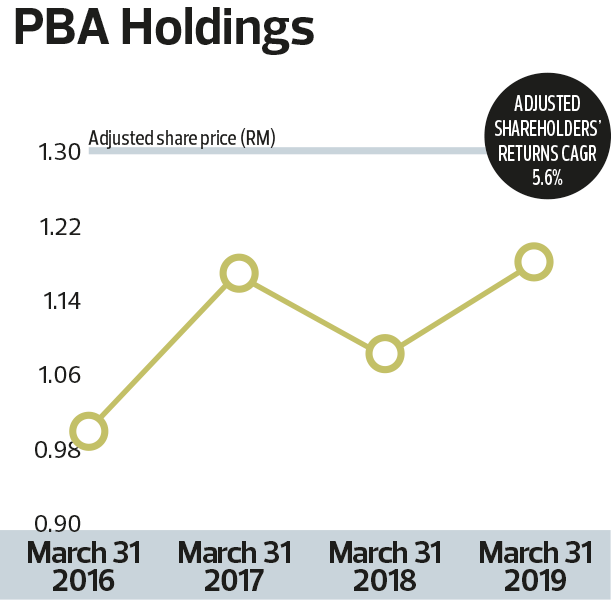 Penang's water service provider PBA Holdings Bhd has been able to deliver decent returns to shareholders over the years despite growing challenges, which include a need for a water tariff hike in the state.
The group fell into a net loss of RM103.43 million for the financial year ended Dec 31, 2018 (FY2018) — its first annual loss ever — from a net profit of RM37.28 million in FY2017. Despite that, it paid shareholders a dividend per share of 3.5 sen compared with 4 sen each in FY2017 and FY2016.
Interestingly, PBA Holdings has rewarded shareholders with dividends every year since its listing on the Main Board of the Kuala Lumpur Stock Exchange (now Bursa Malaysia) in 2002.
On the stock market, PBA Holdings's share price (adjusted) has climbed 17.9%, from RM1.001 to RM1.18, between March 31, 2016, and March 31, 2019 — the period of review for The Edge Malaysia Centurion Club Corporate Awards 2019.
The compound annual growth rate of its shareholder returns over the three-year period was 5.6%, outperforming its peers in the utilities, telecommunications and media sector.
The reason PBA Holdings posted a loss in FY2018 was because it had to recognise a deferred tax liability of about RM137.6 million that year. Excluding that, it recorded an operational profit before tax (PBT) of RM36.14 million.
The group, however, pointed out that deferred tax liability is a non-cash flow item; the actual tax it had to pay the Inland Revenue Board for FY2018 was only RM1.55 million based on a PBT of RM36.14 million offset against other tax incentives.
It was able to pay dividends that year as it remained in a strong cash position, with cash and cash equivalents of RM182.48 million, and retained profits of RM368.31 million at end-2018.
The group's water services in the state is provided through its subsidiary, Perbadanan Bekalan Air Pulau Pinang Sdn Bhd (PBAPP).
PBAPP is seeking a water tariff review in Penang this year. However, the quanta and mechanism of the proposed tariff have not been fixed yet, according to its chairman Chow Kon Yeow, who is also Penang chief minister. He said in its latest annual report, released in end-April, that there were three main reasons the water tariff review was needed.
First, water demand in Penang is projected to increase from 826 million litres per day (MLD) in 2017 to 1,884 MLD in 2050, and PBA Holdings must thus upgrade and optimise its water supply infrastructure to ensure no water rationing in the future.
Second, PBAPP is planning to invest about RM501 million for infrastructure development projects between 2019 and 2021 in order to stay ahead of the state's water demand. These projects include the new Butterworth-Penang twin submarine pipeline, the Sungai Perak raw water transfer scheme, upgrading of all existing water supply facilities and the laying of new pipelines and replacement pipelines.
Third, due to low tariffs, PBAPP's domestic water supply subsidy in Penang is too high. Last year, the domestic water subsidy was RM71.74 million. Without a tariff review, the subsidy is projected to increase further from 2019.
"We are aware that a water tariff review will be unpopular. That said, PBAPP has to do the right thing to protect Penang's future, water-wise," Chow says in the report.
He added, however, that the group would ensure that the proposed tariff review does not overburden lower-income groups, houses of worship and charitable organisations.
In the past 20 years, Penang's water consumption has grown by 56.7% to 840 MLD in 2018, from an average of 536 MLD in 1999 . The number of registered water consumers in the state rose by 82% to 616,082 over the period.
In December last year, PBA Holdings ventured into the renewable energy business through its subsidiary PBA Green Technology Sdn Bhd. The group has identified two potential projects to kick off the business — a mini-hydro plant at the Air Itam Dam water treatment plant and solar power generation at the Bukit Dumbar reservoir.
See the other winners in The Edge Malaysia Centurion Club Corporate Awards 2019 here.