Highest growth in profit after tax over three years
ENERGY
Uzma - Perseverance in the face of low oil prices
Jose Barrock / The Edge Malaysia
November 18, 2019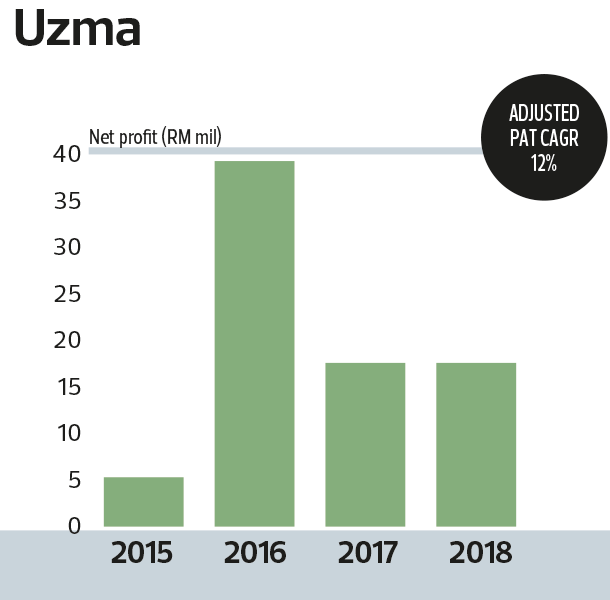 A compound annual growth rate (CAGR) of 12% saw oil and gas long-timer Uzma Bhd win The Edge Malaysia Centurion Club corporate award for the Highest Growth in Profit After Tax Over Three Years in the energy sector for the evaluation period of the financial year ended June 30, 2015 (FY2015) to FY2018.
Uzma's PAT expanded from RM5.3 million in FY2015 to RM17.6 million in FY2018, an especially creditable achievement amid low oil prices that bottomed out at US$26 per barrel in mid-February 2016 after a steady decline since August 2014, when it fell below US$80 per barrel.
Uzma changed its financial year from end-December to end-June during FY2018. Still, its numbers are impressive.
Uzma is a diversified O&G service provider. In the upstream sector, it handles aspects of exploration, development and production processes and in the downstream sector, it offers facilities and plant construction, operations and maintenance processes. Though it has deep roots in Malaysia, Uzma has also expanded abroad with operational offices in Australia, Indonesia and Thailand, among others.
Much of Uzma's success is due to its founder, managing director and CEO Datuk Kamarul Redzuan Muhamed, who is also its largest shareholder. Together with his wife Rozita Mat Shah @ Hassan and via their vehicle, Tenggiri Tuah Sdn Bhd, they control 34.16% equity interest in the company.
After acquiring a wealth of experience from Esso Production Malaysia Inc and stints in Sedco Forex, Smedvig Technologies Sdn Bhd and Roxar Sdn Bhd, Kamarul set up Uzma in 2000.
Other substantial shareholders of Uzma include the Employees Provident Fund (9.36% equity interest) and Urusharta Jamaah Sdn Bhd (a special-purpose vehicle set up by the finance ministry to receive the underperforming properties and equities of Lembaga Tabung Haji with 8.21% equity interest). Another notable shareholder is Chua Sai Men, son of Tan Sri Chua Ma Yu, with a 1.64% stake or 5.25 million shares. Most of Uzma's top 30 shareholders are institutional investors, according to Uzma's latest annual report.
In its financial year ended June 30, 2019, Uzma registered a net profit of RM29.7 million on sales of RM443.44 million. As at end-June, the company had fixed deposits with licensed banks amounting to RM38 million, cash and bank balances of RM24.48 million and reserves of RM188.44 million. Long-term debt commitments stood at RM420.99 million and short-term borrowings at RM84.78 million. Uzma's finance costs for the year totalled RM29.15 million.
The company raised RM49.46 million from a private placement in 2018, some 60% of which was utilised for capital expenditure and 30% to repay borrowings.
On its prospects, the company says, "Barring any unforeseen circumstances, the directors remain optimistic about the group's prospects for the next financial year."
Uzma has an order book of RM1.2 billion, which will provide earnings visibility and keep it busy for the next two to three years.
While the past few years have been favourable for Uzma, the coming year will be an interesting one because of a new business venture in Indonesia. Uzma recently entered into the provision of electrical submersible pumps in the country, which management is confident will have a positive impact on its bottom line, considering Indonesia's huge market.
Other than the Indonesian foray, Uzma has also been making inroads into the plug and abandonment business, which takes place when an oil or gas well reaches the end of its useful life.
Uzma is said to be tendering for as many as 20 plug and abandonment contracts, both locally and internationally. Some of these contracts involve Spanish oil giant Repsol, with which Uzma already has an existing contract, thus improving its chances of bagging these jobs.
See the other winners in The Edge Malaysia Centurion Club Corporate Awards 2019 here.